Inaugural Scotiabank Kiddy Cricket Camps Get Started
New initiative in Kiddy Cricket program
Barbados, August 14, 2013 – A new era in the 14-year history of the Scotiabank Kiddy Cricket program began this week as the inaugural Kiddy Cricket Camps got started at three grounds across Barbados.
Nearly 100 children are participating in the week-long camps which are a new initiative coming out of the historic five year sponsorship renewal contract signed by the West Indies Cricket Board (WICB) and Scotiabank last month.
The camps are focused on delivering a series of intense coaching clinics for some of the most promising students emerging from the recent Kiddy Cricket Festival which was held in May at Kensington Oval. Territorial Development Officer Robin Parris will deliver the main technical components of the camp, with the assistance of other Kiddy Cricket coaches and cricketing personnel, including umpires who will expose children to the rules of the game.
WICB Kiddy Cricket Officer KJ Singh said that the camps are part of the WICB's development pathway for students.
"The aim is to identify and graduate potential talent to the WICB's Grassroots and Under 13 and Under 15 Programmes. The campers are students who have shown immense potential and are interested in advancing in the sport. With help from Scotiabank, we are delighted to be exposing them to the technical training they need," said Singh.
Scotiabank's regional sponsorship manager Simone Hull Lloyd, said the Bank was pleased to join with the WICB once again to promote the young cricketers' continued advancement.
"We are proud to be guiding them to the next level of training which will see them getting familiar with advanced cricketing concepts, techniques, skills sessions, and equipment. They will be starting to use hard balls, batting pads and getting used to playing in protective gear such as gloves and helmets which is great preparation for the next stage in their cricket lives.
Let's go! Campers at the inaugural Scotiabank Kiddy Cricket camp in Barbados cheer with excitement as they start their first day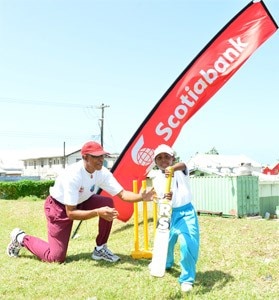 Young camper Theanny Mayers practises a forward defensive shot under the watchful eye of coach Richard Clarke

Scotiabank is a leading multinational financial services provider and Canada's most international bank. With more than 83,000 employees, Scotiabank and its affiliates serve some 19 million customers in more than 55 countries around the world. Scotiabank offers a broad range of produc ts and services including personal, commercial, corporate and investment banking. In December 2012, Scotiabank became the first Canadian bank to be named Global Bank of the Year and Bank of the Year in the Americas by The Banker magazine, a Financial Times publication. With assets of $754 billion (as at April 30, 2013), Scotiabank trades on the Toronto (BNS) and New York Exchanges (BNS). For more information please visit www.scotiabank.com.
For more information:
Amanda Lynch-Foster (246) 431-3071 or (246) 230-5104 or email amanda.lynch-foster@scotiabank.com.