Scotiabank Alerts are notifications delivered to you via email or as a mobile app notification. These are meant to inform you of specific transactions on your account(s) and are set up and managed by you, through Scotia OnLine or Scotiabank Mobile Banking.
You may modify your Alert settings at any time.

There are three (3) types of Alerts that you may subscribe to. These include: Transaction Alerts, Security Alerts and Credit Card Controls & Alerts.
Transaction Alerts:
ATM Withdrawals / Cash Advances
Credit / Debit Card Authorizations
Credit Card or Line of Credit Authorized
Authorization without the Credit Card present
Credit Card authorized outside of country
Deposit account balance (daily or weekly)
Transfers to Third Party recipients (On / Off-US)
Future dated transaction reminder
Bill Payment
Security Alerts:
My Profile update
Sign in from a new device
User blocked
Password Modification
Security Question update
Access code / Change
Payee (Add / Change)
Recipient (Add / Change)
Credit Card Controls & Alerts:
Turn Credit Card On / Off
International Transactions On / Off
Internet Transactions On / Off
Maximum Authorization Limit Reached

There is no cost to register, sign up and use Scotiabank Alerts. Please note that if you choose to receive Mobile App Notifications, charges may be applied by your mobile service provider according to standard data plan rates and roaming, if out of the country.

We have turned on Alerts for you. Existing Customers registered on Scotia OnLine with a valid email address will be automatically enrolled to receive Scotiabank Alerts.
If you are already registered to use Scotia OnLine but you do not have an email address, immediately after you sign in to Scotiabank OnLine or the Scotia Mobile App, you will be asked to enter your email address. 
To customize Scotiabank Alerts, simply go to either Scotia OnLine or Scotiabank Mobile Banking, click on the "Settings" menu and select "Alerts". Follow the easy steps to enable alerts and choose the specific alerts to be set up.
Typically, you will receive the notification within one minute after a transaction has occurred. 
Please be aware that you can experience delays or failures in delivery of an Alert notification, due to any of the following circumstances:
1.   The merchant may have a delay in processing the transaction
2.   Delays and / or failures attributable to network operators and telecommunications providers
3.   If the mobile device is turned off or out of operating range of a carrier with an appropriate signal for data services
4.   A variety of other wireless service and coverage conditions
5.   Active or passive filtering of e-mail messages
6.   Insufficient space in the email account that is to receive email messages

No, the contact information used for Scotiabank Alerts is synced with the contact information on your information profile.
Go to Account Settings, then Select Update your contact information under the "My Profile" tab.
Scroll down to Update Email Address
Enter & confirm your email address
Enter your Access Code (You will need to enter your access code to enable the change)
Select Update to save your changes
Make sure to save your changes before leaving the page! 
This is only available via Scotia OnLine Banking and is not available through the Scotiabank Mobile Banking App.
At the moment, Scotiabank Alerts doesn't send text messages (SMS) to our customers' mobile phone numbers. This could be a case of fraudulent text messages claiming to be from Scotiabank. Do not reply to these text messages nor provide any of your personal information.
To ensure that you continue to receive Scotiabank Alert notifications while travelling, make sure that your delivery options for alerts are either your email address or Mobile App notifications. These two delivery options do not require a mobile phone number.    

In order to receive your mobile app notifications, you must download the latest version of the Scotiabank Mobile Banking app to your mobile device and Notifications must be enabled on the App. If you are still not receiving app notifications, check and ensure that the mobile device has app notifications enabled as well.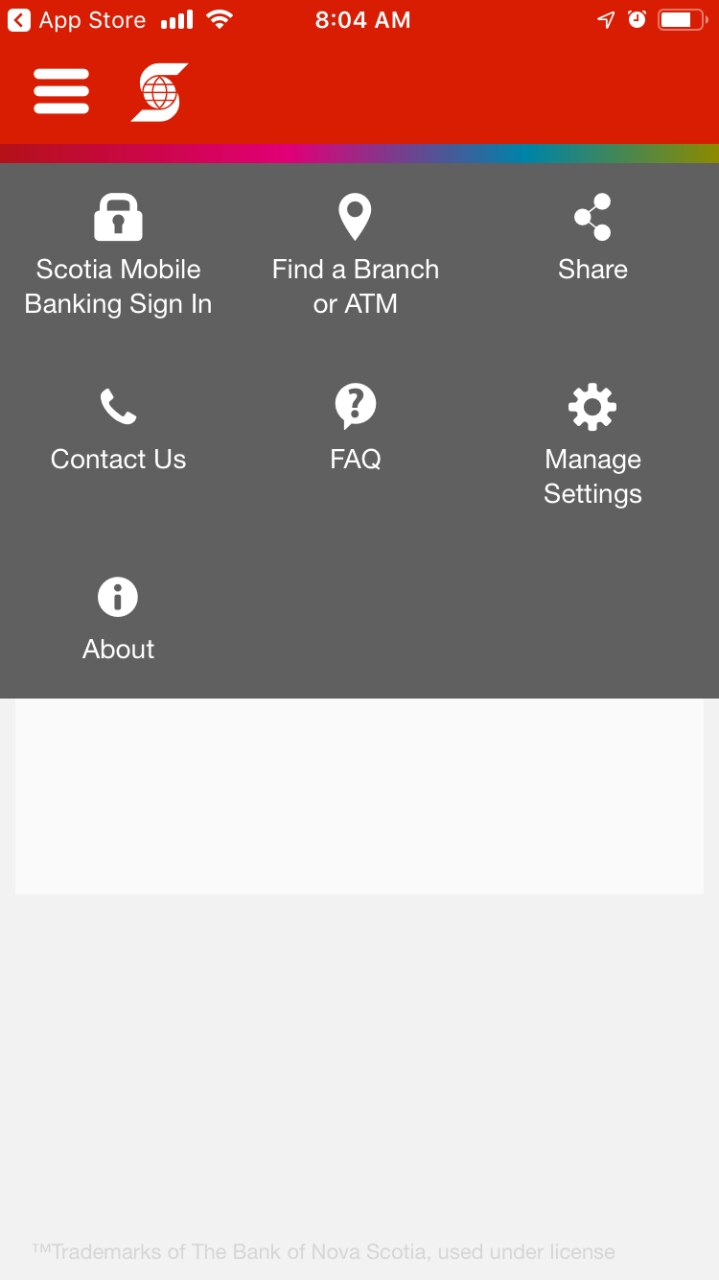 Yes you can. Just download the Scotiabank Mobile Banking app to whatever device that you want, enable App notifications and sign in to Mobile Banking.
If your debit card is lost, stolen or replaced for any reason, in most cases, your Alert notifications attached to your debit card will be transferred to the new card.
Tip: Review your Alert preferences to ensure you continue to receive Scotiabank Alerts.

If your credit card is lost or stolen, you will need to go into your Alert Settings and update your Credit Card Alerts with your new Credit Card number. If you do not update your information, you will not receive Alerts for the new Credit Card as the Card Number would be changed.

If your Credit Card expires, the new Credit Card would have the same Card number and your Scotiabank Alert preferences will be transferred over to the new card.
Tip: Review your Alert preferences to ensure you continue to receive Scotiabank Alerts.

When a Customer receives an Alert, they should review to ensure that the transaction has recently taken place – if they did complete that transaction, they are instructed to call the number on the back of their card.
For credit card transactions, it is recommended they login to internet banking and change the status of their credit card to "Off" to prevent future transactions. Note: Preauthorized purchases will continue to be posted to the credit card.
Yes, if the primary cardholder sets Scotiabank Alerts, all cards associated with the primary account number will trigger the selected Alert(s).

No, only you can make any changes to your Scotiabank Alert preferences through Scotia OnLine or Scotiabank Mobile Banking.
To unsubscribe from Transaction Alerts, remove the delivery option selected and you will no longer receive that Alert.
Security Alerts may not be turned off. These were specifically created as an added security feature to protect your account.