How-to make a Cash or Cheque Deposit. 
ATM downtime? No thanks. 
Please remove all paper clips, rubber bands and staples before inserting your cash and/ or cheques into the ATM.
Let's get started. 
Follow the steps below.
Step 1 - Insert your ScotiaCard and enter your PIN.
Insert your ATM card into the green slot, face up with the Scotiabank logo facing the machine.

When prompted, enter your four (4) digit PIN and wait for the Main Menu screen to appear.
Step 2 - Select 'Deposit'.
On the Main Menu screen, select 'Deposit'.
If the deposit option is greyed out, it means that the ATM is full. Try another available ATM.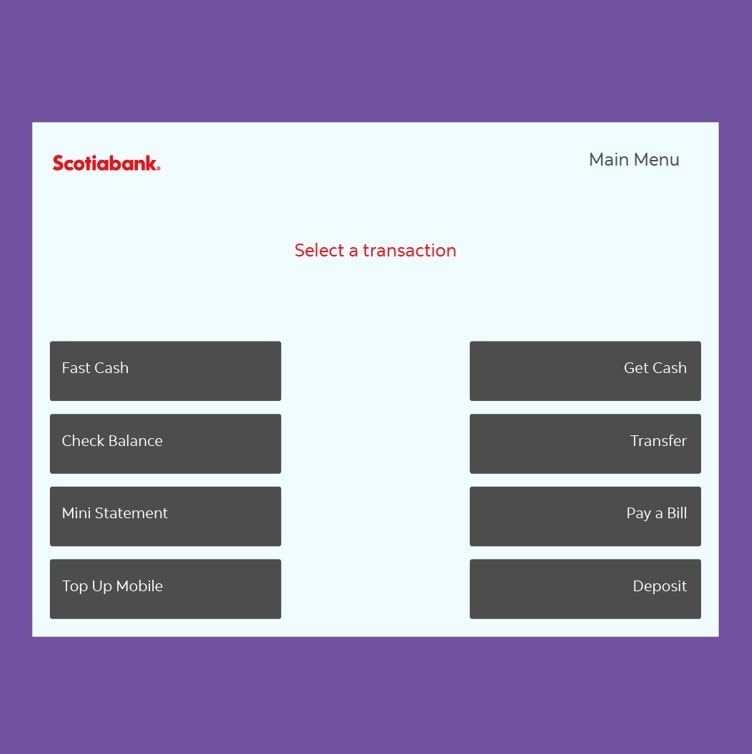 Step 3 - Insert your cash and/or cheques.
When prompted, insert your cash and/or cheques together into the slot.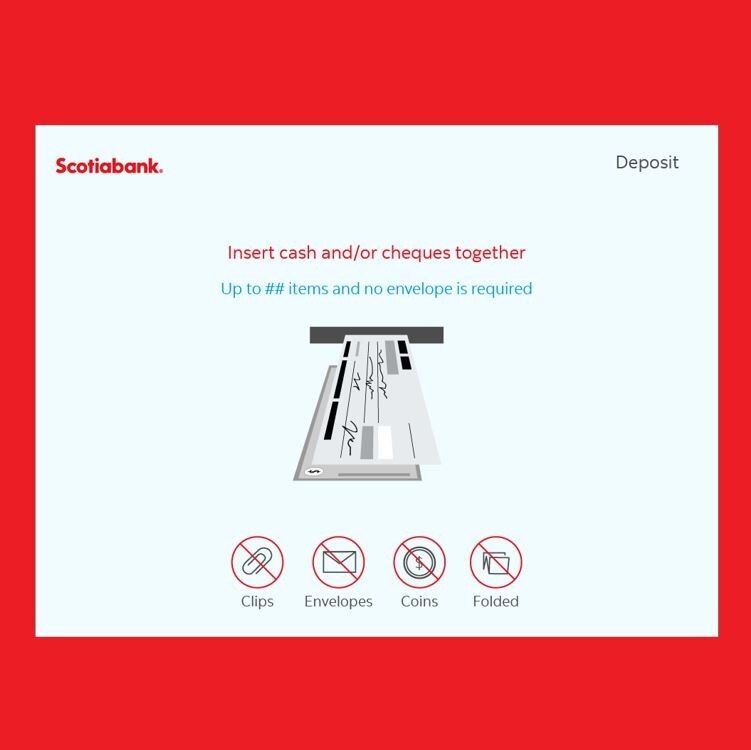 Step 4 - Wait for the machine to read deposited items. 
The machine will take a few seconds to read the deposited items before asking you to confirm the amount.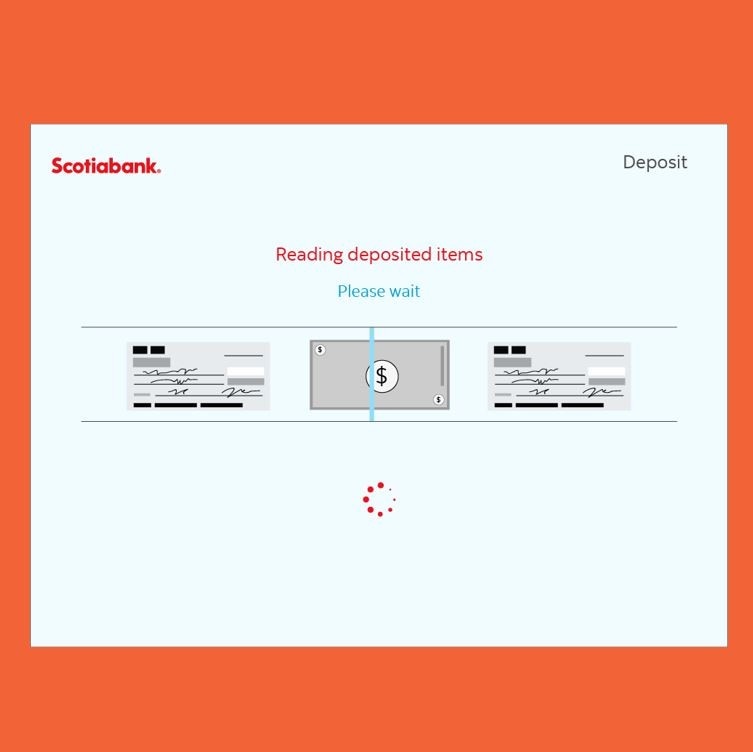 Step 5 - Review deposits.
A breakdown of your deposits will now be displayed on the screen. Review the details and ensure it's correct before closing the window.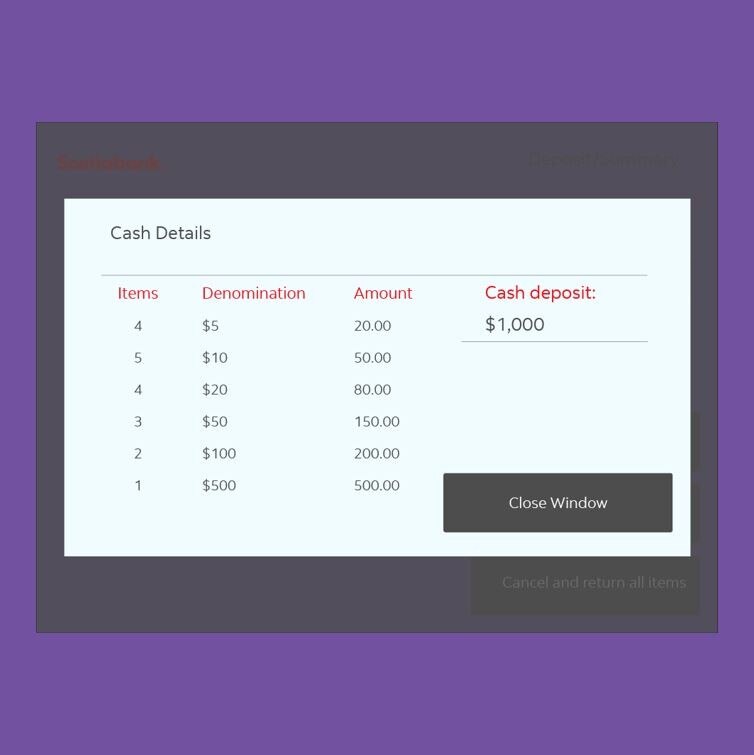 Tip - Edit cheque, if necessary
If the amount displayed on the screen is the incorrect cheque amount, you can manually change the figure. Simply enter the correct amount, and save.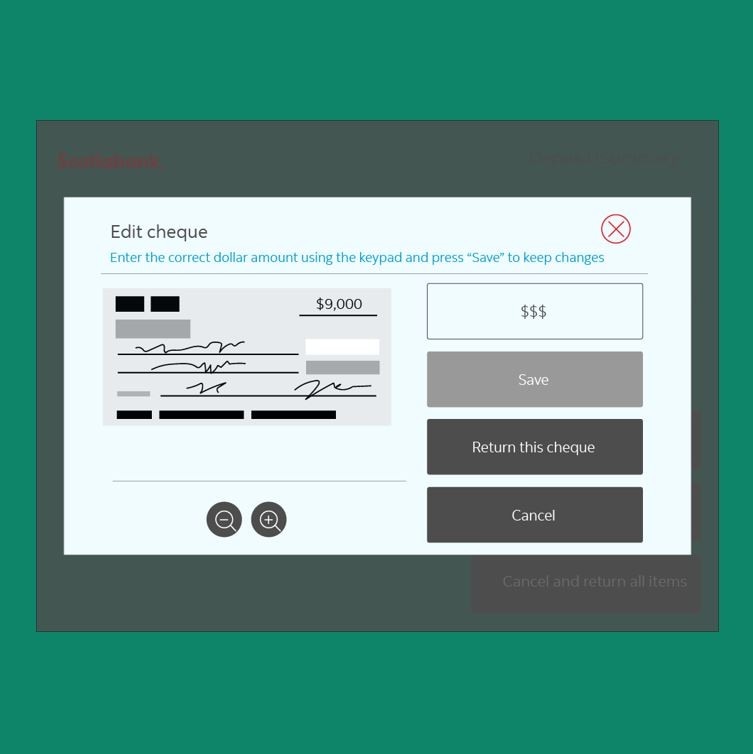 Tip - Cheque amount cannot be recognized
If the machine is unable to read the amount of your deposited cheque, you will also have to manually enter the figure. After the amount is entered, select 'Save' and proceed. 
You also have the option to have the cheque returned to you, if desired.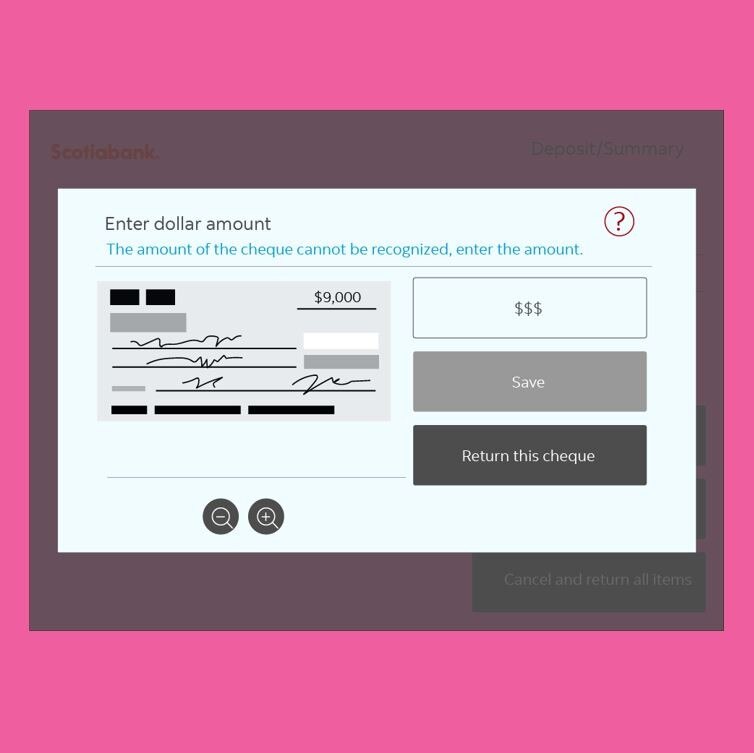 If you chose to return items, they will be given back to you before confirming your final deposit amount.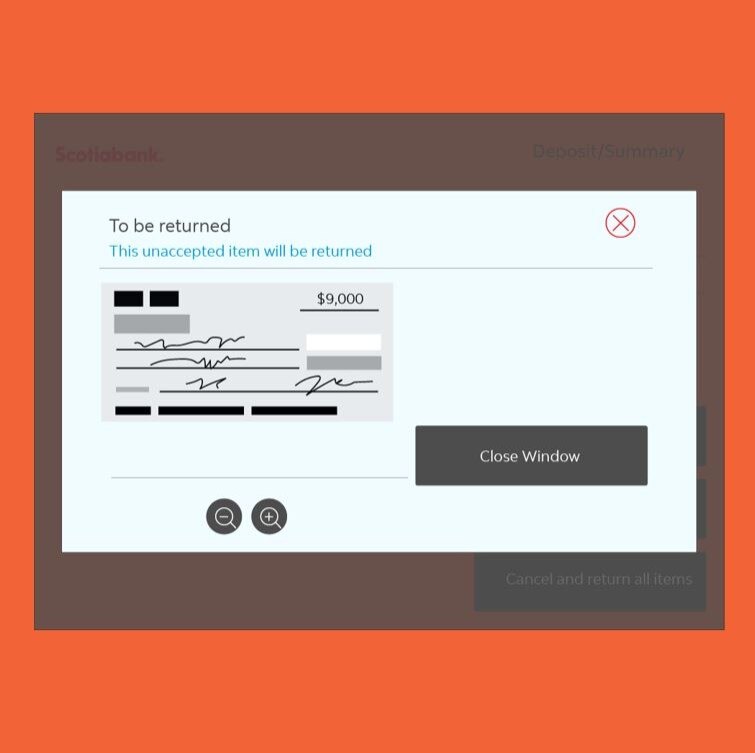 Step 6 - Confirm amount deposited.

After reviewing your deposit breakdown, you should now see the total amount, for your confirmation.  If this amount is correct, select 'Confirm deposit'. If you have more items to deposit, you may also do so now.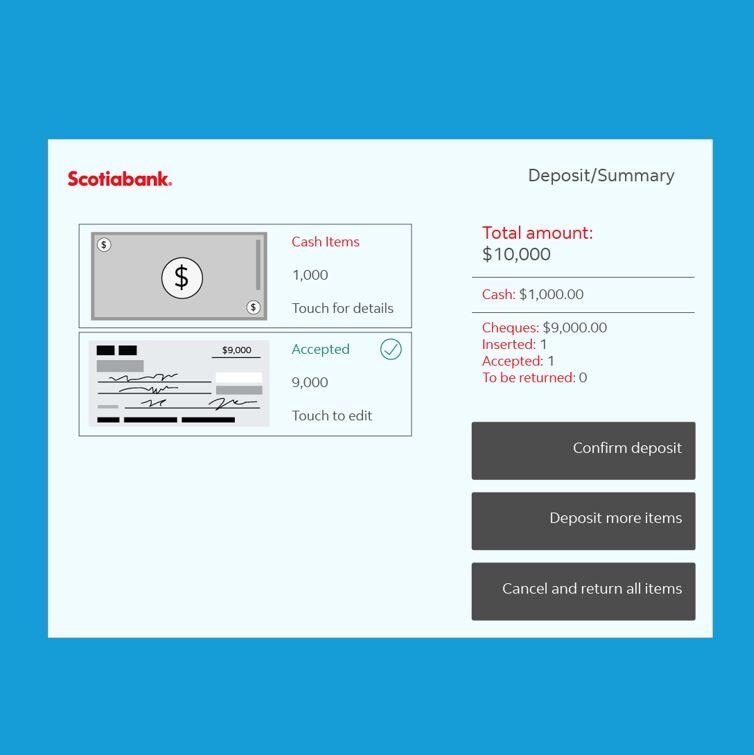 Step 7  - Wait for your deposit to be processed. 
Your deposit should take a few seconds to be processed.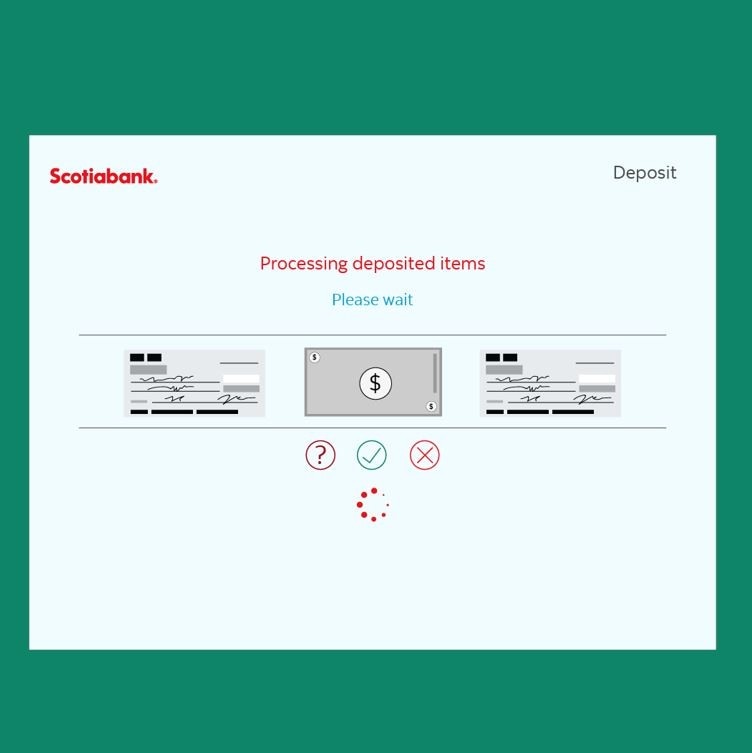 After the deposit is processed, select the account to which you would like the funds deposited.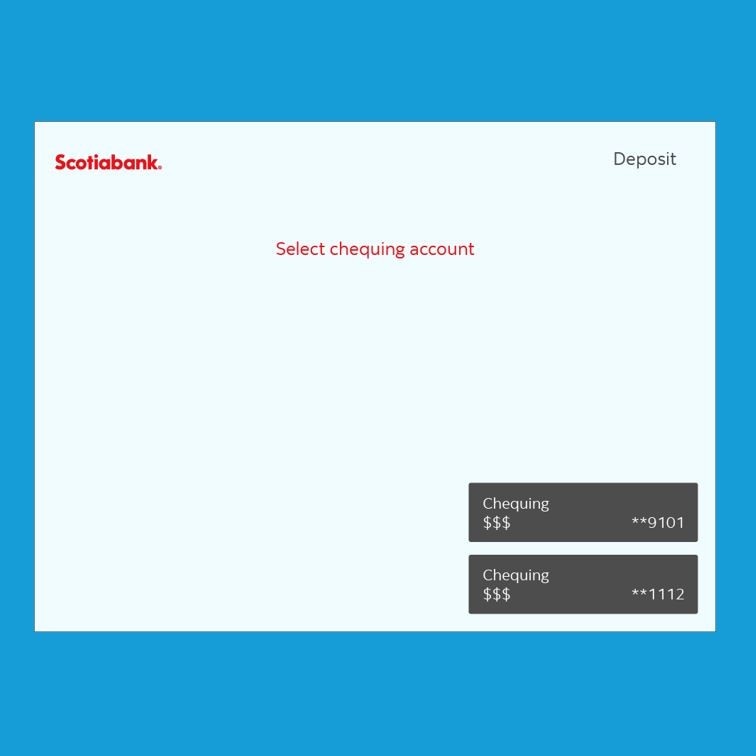 Step 9 - Do you want a receipt?
You will now be given the option for a printed receipt. 
If you deposited a cheque, you can choose a receipt with or without the cheque images printed.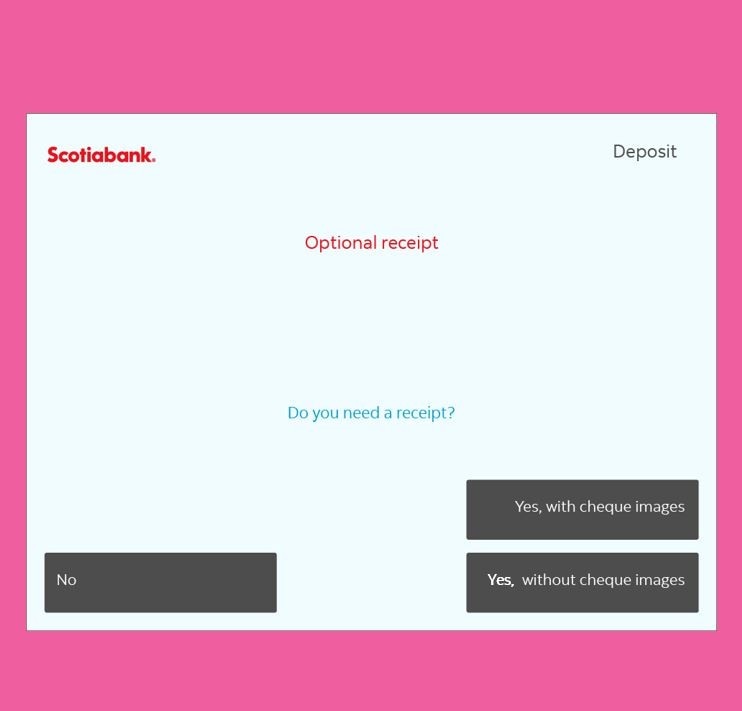 Step 10 - Congrats! You've successfully made a deposit at an ATM.
Congrats! You should now receive a message on the screen prompting you to remove your receipt, if requested.

You will also be asked if you need to do another transaction. If you do not, select 'No' and proceed.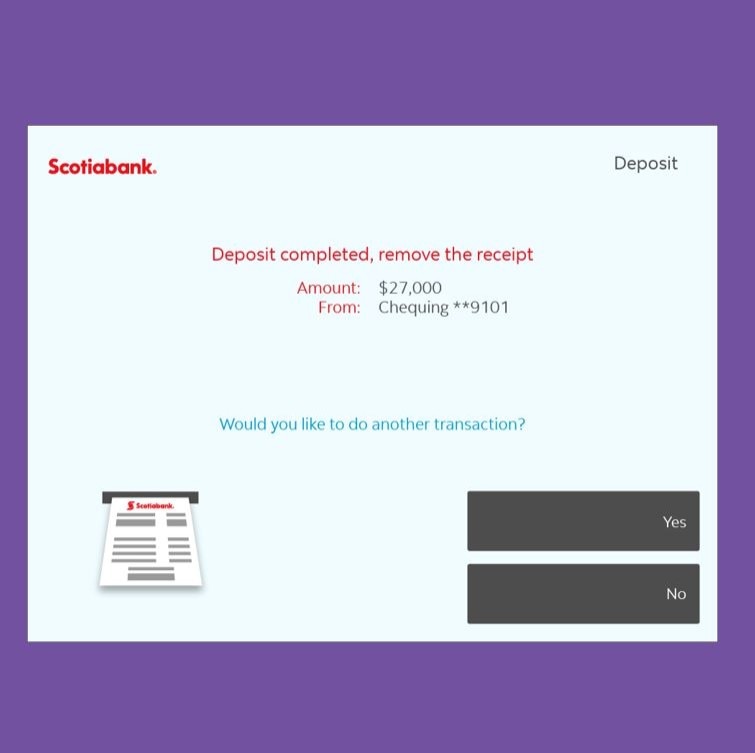 Step 11 - Collect your receipt.
If you selected the option for a receipt, it will be printed at the end of your transaction. After collecting, be sure to retrieve your ScotiaCard before leaving the ATM.